Private Pheasant and Quail Hunting Club in Gettysburg, PA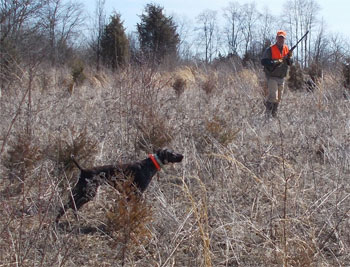 S&M Hunting Lodge is a 276 acre private pheasant hunting club located in south central Pennsylvania near historic Gettysburg. The present organization has been in operation since 1977 on land that has been a hunting ground for over 40 years.
The lodge is a regulated pheasant hunting grounds. This status allows for an extended season (Oct. 1 - March 31) and hunting of pheasants on Sundays. There are two hunts daily and we are open 6 days a week (closed Mondays).
About the Lodge and Property
We offer the hunter a place where he is welcome in today's urbanized world. The lodge offers longer seasons; larger pheasant limits and the assurance that there is challenging game to hunt in varied cover. We only purchase the finest birds that are raised to be great flyers.
In addition to hunting, the club has a Trap House Sporting Clays unit available to sharpen your aim before or after the hunt.
For safety reasons, each hunt has a maximum of 18 hunters. A Pennsylvania state hunting license is not needed if only pheasants are hunted.
During each hunt, 3 birds are released per hunter per hunt, and when and if the hunter harvests their 3 birds he must unload gun and leave the field.
Memberships Available
We offer two types of memberships. For detailed information, visit our Membership page.
Find out More
S&M Hunting Lodge is dedicated to providing a top quality hunting area inhabited by top quality pheasants that will test a hunter and his dog. To find out more about the lodge, please contact us to talk to a representative.
Newsletters:
On-Site Bird Dog Training By:
Deadwood Kennels
Greg Fry
717.614.0322
Creekside Gamebirds
Hardy, Fast-flying
BOBWHITE • QUAIL • CHUKAR • PARTRIDGE • RINGNECK • PHEASANTS Tomorrow's Gamebirds at Yesterday's Prices
Michael Thompson
H: 717.677.7995 • C: 717.357.3328
tllewset@gmail.com